N E W S & U P D A T E S

Press Release, Tuesday, 17 May 2011:
Short Tales Collection released in Kindle & Nook-Book editions
The Short Tales Collection is now available in Kindle and Nook-Book editions.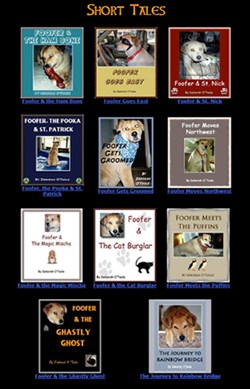 The eleven titles in the series include:
The first ten books chronicle Foofer's light-hearted adventures filled with fantasy, humor and magic.
The last part in the series, The Journey to Rainbow Bridge, is a heart-breaking account of Foofer's last months of life. The proud, majestic and sweet-natured Foofer lives out his final days in quiet dignity, teaching the lesson of unconditional love in its purest form.
Click here for more information >
Click here to visit Foofer's online memorial.

BACK TO NEWS & UPDATES