N E W S & U P D A T E S

News, Sunday, 1 April 2012:
Win a free copy of Celtic Remnants
*CONTEST CLOSED*
The "Celtic Remnants" Contest is now over. Click here for details.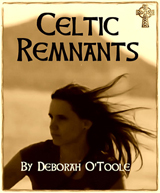 Original Contest Announcement 04/01/12:
To celebrate the first-year anniversary of the release of Celtic Remnants, a drawing for a free electronic copy of the novel was launched today.
The special commemorative edition of Celtic Remnants includes transcripts of a "Q & A" session with author Deborah O'Toole about her novel.
The drawing commences on Sunday, 1 April 2012 and will run through Monday, 30 April 2012. One name will be randomly selected from all valid entrants, with the winner being announced on Monday, 7th May 2012.
The winner will receive a free copy of Celtic Remnants in their choice of Kindle, Nook or PDF formats.
Click here to enter the drawing.
More about "Celtic Remnants" >

BACK TO NEWS & UPDATES