N E W S & U P D A T E S

News, Thursday, 12 January 2012:
Blog Talk Radio interview announced
Deborah O'Toole will be the featured guest on Blog Talk Radio on Sunday, 15 January 2012 at 9:00 PM EST.
The 30-minute interview will be conducted by John Byk from Writers ALIVE 2012, and will focus on Deborah's novel Celtic Remnants and the turbulent history of Northern Ireland.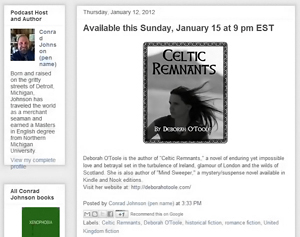 Click here for more information.
*POST-SCRIPT, 17 January 2012: While audio from the Blog Talk Radio interview is now online, a text transcript will not be made available until later this year because of its length (30 minutes). To listen to the interview online, click here.

BACK TO NEWS & UPDATES