Sneaky Peek Not
My father does not read online blogs, including mine, so I feel safe posting a picture of my Christmas present to him: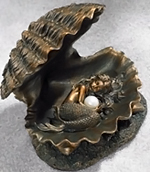 The figurine is called Mermaid Child in Shell and comes from Gael Song in Seattle.
I've always given my father unusual gifts. One year it was a heavy brass sea crab with legs (the shell opened to reveal the ashtray). In 2005 it was solar-powered wind chimes. Both my parents now enjoy the chimes in the evening, which hang above their backyard deck. Another year it was a solar leprechaun from Creative Irish Gifts.
However, if I had gobs of money I would probably order one of everything at Gael Song for myself.
Posted Mon, 14 December 2009