Cats Will Be Cats
Posted Sat, 12/13/08
Mini-gale winds and rustling, old autumn leaves rushed up the driveway last night outside my bedroom window. Besides the patter of rain, I cannot imagine any other sound that is more soothing and so utterly relaxing. By this morning, we were blanketed with snow.
It's kind of a lazy Saturday. I did a lot of writing early, and then spent part of the afternoon "playing" on the computer.
During my play, I came across an incredible video. It's such a wonderfully touching story: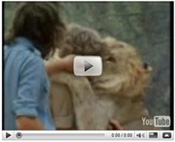 Christian the Lion Reunited with Humans >
I cried a bucket of tears when I watched the reunion unfold. The video is not to be missed.
To learn more about Christian the Lion, click here.
Tags: Photos & Other Images