Hidden Funzies
Posted Sun, 11/30/08
New hidden object funzies from Big Fish Games:
It's been so long since I've played "hidden object" games that there was a slew of newbies to choose from. I'm still evaluating some of them before I consider buying, but so far I like Return to Ravenhearst the best (which is the sequel to Ravenhearst).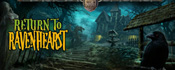 The game I like least so far is Buckingham Palace, but only because there are time-consuming puzzles in betwixt the search for hidden objects. I just want to find the objects, not be sidetracked by uninteresting puzzles - so the jury is still out on that one. [Postscript 12/08/08: I did get Buckingham Palace, along with Return to Ravenhearst and Dr. Lynch: Grave Secrets as I had three games credits with Big Fish so it didn't cost me a dime].
It's a lovely way to spend a gray and misty Sunday. Yes, my kind of weather - finally.
Click here for my lists of the best and the worst "hidden object" games.
Tags: Games