Uncommon Headers
Posted Sun, 11/21/10
More Microsoft Word 2007 formatting goodies...
I was trying to insert a header on the first page of a 700-plus page manuscript this morning. My goal was to leave the rest of the pages without headers and numbers. It's not as easy as it sounds, especially when using the function isn't typical and when document norms consist of headers/footers on every page.
From the University of Wisconsin-Eau Claire:
On the first page of the document, double click within the header or footer. The Header & Footer Tools Design tab will appear.

From the Header & Footer Tools Design command tab, in the Options group, select Different First Page. The label on the first page header text box changes from Header to First Page Header.

In the First Page Header text box, insert the desired information.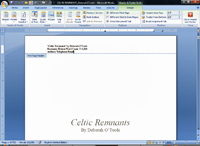 (Above): Screenshot of header insert using Microsoft Word 2007. Click on image to view larger size in a new window.
*Related Posts: Quick Format Fix (formatting paragraphs, 08/05/10); Puter Learning (table headings on every page, 09/29/10); Uncommon Headers (inserting a header on first page only, 11/21/10); Canadian English (spell-check using MS Works, 12/06/10); Typeover Tools (typeover function on keyboard, 12/23/10); Nested CSS Menus (vertical css menus, 03/19/11). For more tips and goodies, visit the Design Notes page at Webs Divine.
Tags: Web Design/Computer Misc