November 2010
---

Humane Goodness
One of this year's winners of ASPCA's Humane Awards is a search and rescue dog named Pearl. She looks so much like Rainee I had to do a double-take. Give Pearl a red collar, and she and Rainee could be sisters.
A disabled cat named Henry was dubbed "Cat of the Year" by ASPCA. Henry is an amputee who inspired a series of children's books by Cathy Conheim, which promote understanding and compassion for people with disabilities.
While perusing more animal news this morning, I also saw an article about Operation Cats. This particular venture is ASPCA's effort to shine a light on a variety of issues, including spay/neuter solutions and animal homelessness.
Operation Cats offers game-players an opportunity to create their own "viral" cat.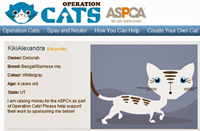 The above image is a screenshot of Kiki's new page at Operation Cats.
Posted Friday, 19 November 2010
Please Note: Comments have been temporarily disabled at Irish Eyes. To send a message, click here or visit her page at Facebook.