First Love
Posted Mon, 11/05/07
If I had remained married to my first husband, today would have been our twenty-fifth wedding anniversary. Can you imagine? The realization not only makes me sad, it makes me think I'm as old as the hills. I can say one thing about my first wedding: I was only twenty years old at the time, so I suppose I'm not that old – yet.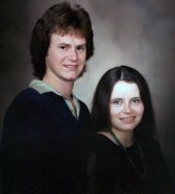 We had been living together for about one year before we married, much to the chagrin of our respective parents. On November 5, 1982 we invited our parents to dinner, and before they could sit down in our living room we had a justice of the peace marry us in front of them. It was quite a nice surprise for Mum, as well as his folks. But everyone was very happy. That night we celebrated the wedding with a grand dinner at Benihana, which was one of my favorite restaurants at the time and still is.
Wherever husband #1 may be right now, here's wishing him a good memory or two and a respectful nod to what might have been.
Tags: Husbands; Photos & Other Images