Lovely Boy
Posted Tue, 10/30/07
I took this picture of Foofer yesterday: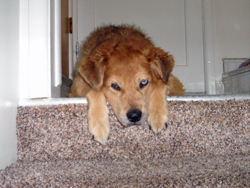 He was sitting at the top of the stairs waiting for me, his paws hanging down the first step. His blue eye and brown eye came through clear in the shot, which normally doesn't happen. They typically show up as red.
I know I probably sound like a gushing Mum, but Foofer was so adorable I had to snap a picture.
Tags: Foofer; Photos & Other Images