Autumn Dawn
Posted Tue, 10/23/07
This morning I was an autumn baking fool, fussing in the kitchen well before the crack of dawn. I typically awaken around four each morning. I find the time to be peaceful and productive, although because of it I'm often in bed by ten o'clock at night.
This morning, rather than inhale a pot of coffee and tend to my writing, I decided it was time to whip up some autumn goodies.
Before the crack of dawn, the kitchen was awash with the tantalizing aromas of pumpkin and peanut butter as I baked separate batches of Pumpkin Cookies and Peanut Butter Cookies. Each array yielded two dozen apiece, although I had to make do without ginger for the pumpkin cookies as there was none to be had in the cupboard. I also halved the pumpkin recipe and minimized the sugar quantity.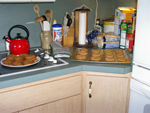 While I was at it, I organized the spice cupboards. Many of the herbs and spices – both savory and sweet – were mixed up together so I separated them into their rightful places. That's how I discovered I was out of ginger – something else for the shopping list.
More of my favorite Halloween recipes from the past:
They don't sound too bad for the present, either…
Tags: Photos & Other Images