Self Birthday
Posted Thu, 08/28/08
Tomorrow is my birthday and I treated myself to a new web design. Not for me, no, but for a cool photo array that includes three different galleries. I received an upgrade to Coffee Cup Software's Photo Gallery earlier today, which contained some new gallery templates I wanted to try out.
Doing up new webs and creating galleries is my idea of fun, believe it or not. I find the process enjoyable if not a little relaxing.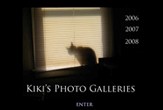 So I whipped up some new web pages and added three new photo galleries, this time out featuring the angelic Kiki.
Visit Kiki's Photo Galleries if you dare.
Ah come on, give it a whirl…
Tags: Kiki; Web Design/Computer Misc