Working Whirlwind
Posted Tue, 07/26/11
Over the last month, I've been busy working on a large web project. The job entailed giving the Food Fare web site a complete "facelift." Not only was the site completely re-built from scratch, I spent a big chunk of time creating new "header banners," sub-buttons, navigational images and topic-specific buttons and clipart. In between, I designed individual book covers for all twelve titles in the Food Fare Culinary Collection as well as formatting each book for upload to Amazon (Kindle) and Barnes & Noble (Nook).

Needless to say, this is the first time I've been able to take a so-called break in weeks. I'd like nothing better than to be writing new material for Glinhaven or - God forbid - having a leisure read with a book, but as the old saying goes: "You can wish in one hand and s#@t in the other."
However, I'm extremely happy with my artistic endeavors with the Food Fare Culinary Collection. Creating book covers is not as easy as it sounds (layers, colors, text, et al), but I have to admit I enjoyed the process. My favorite covers out of the lot include Aussie Gastronomy, Medieval Cuisine and The Emerald Isle.
Apparently readers also like the little e-books, because they are selling quite briskly at both Amazon and Barnes & Noble. The varied interests of folks across the globe never ceases to amaze me.
Here's a thumbnail of all twelve covers: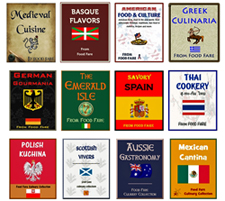 Speaking of food, Club Lighthouse Publishing is scheduled to release the Ambrosia Cookbook next month. May the saints preserve me!
I'd like to spend the rest of the evening taking a nap or reading, but it's hardly likely to happen...

Tags: Web Design/Computer Misc