Cheap Cat Toys
Posted Tue, 07/10/12
Thanks to suggestions offered in the Catster article 4 Toys You Can Make from a Toilet Paper Roll, I made Kiki a handful of "cheap" amusements this afternoon.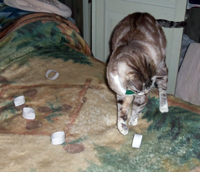 The Catster article by Holly Tse describes the "Ring Toss" toy:
You can make fun rings for your cat to catch. Begin by pressing the toilet paper roll flat. Then cut the flattened roll into rings a quarter-inch to a half-inch thick. You should be able to make 10 to 12 rings per roll, depending on the width of each ring.

Pop a flattened ring open and you're ready to play. Toss the ring in the air or whip it across the floor and watch your cat give chase. To spice things up a bit, try cutting the rings thicker or thinner to see which your cat prefers.
Kiki also carried one of the rings in her mouth: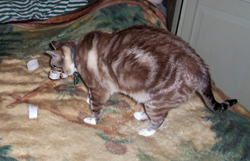 It was fun for her, and cheaply made by me. Besides, I'm not likely to run out of empty toilet paper rolls in the near future.

Tags: Kiki; Photos & Other Images