Moping About
Posted Tue, 06/20/06
Mum left for home this morning, so naturally I'm a bit in the dumps. My parents stayed for a week, but time flies so quickly while they're here that it seems like they just arrived. I miss Mum terribly, although I don't often voice my feelings. She lives about 700 miles away, so it's not as if I can jump in the Lincoln and pay an afternoon visit every day. Phooey…
We had a good time, though. We barbequed outdoors last Saturday, and my aunt Jane from Chattaroy joined us. Wilbert made his one-of-a-kind barbequed chicken, and I prepared homemade potato salad. The entire visit was a true culinary delight. For more about that, read the archived "foody" blog post from Appetizing Muse (titled "Vacation Grub"):
My parents came to visit recently, and during their week-long stay we sampled a wide variety of foods. Their visits always seem to go so fast, and I hate to see Mum go. It takes me a few days to shake off the melancholy after she leaves.

The first day include corned beef with cabbage, potatoes and carrots. Crock-pot corned beef is a fail-safe meal that almost always comes out flawless, and this time was no exception.

The second ay we treated my parents to the Top of China Buffet. The third day was fairly simple: chili and hot dogs for lunch (using my husband's Hot Dog Express Rotary Grill), and lasagna with salad and garlic bread for dinner.

The fourth day we made-do with leftover corned beef sandwiches on French bread with spicy brown mustard, and for dinner we bought a bag full of Jack-in-the-Box regular beef tacos. My father fell in love with Jack's tacos, and ate four of them in one sitting. This is highly unusual for him, as he typically only consumes one or two tacos at a time. Unfortunately, my parents do not have a Jack-in-the-Box close to their home in Utah.

On the fifth day we had an outdoor barbeque with chicken, homemade potato salad and Bush's Baked Beans. Coconut-cream pie from Cyrus O'Leary's finished off that meal.

On Father's Day we went to Casa de Oro and enjoyed a leisurely Mexican meal that was wonderful, as usual. I have become hooked on chíle rellenos. Each time we frequent Casa de Oro, I always add the item to my combination plate (which also included a cheese enchilada, rice and refried beans). Mum ordered a "Chimumga" (her word for a Chimichanga).

On Monday night we had Bear's Beef Chuck Strip Steaks with sautéed green beans, mushrooms and onions, as well as twice-baked potatoes with sliced green onions and melted jalapeno cheddar cheese.

Vacations and family visits always seem to bring about feasting one way or another, but now we are back to our standard fare. My palate can use the rest, but I sorely miss the presence of my Mum.

Mum is the center of my family, which also includes my husband and two dogs, Foofer and Rainee. As I've said before, I wish Mum lived closer than she does. As it is, she lives a long stretch of 700 miles away.

Mum is often quiet and unassuming, but she has an emotional strength and subtle intelligence that I have yet to find in another person. She is also my best friend.

With that, it's back to my doldrums and away from the food…
I tend to keep my house fairly cool, with multiple fans blowing out from the central air conditioning floor vents. My parents know the drill, and they typically bring long-sleeved shirts and pants with them, along with light jackets. At one point yesterday, they were sitting on the couch sharing a blanket around their knees. I couldn't resist the scene, so I snapped a picture of them in mid-freeze.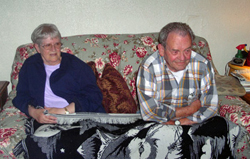 Foofer and Rainee were beside themselves during Mum's visit. They love their "Gamma." They always get extra treats from my parents. When they left for home this morning, my Mum tried to say goodbye to Foofer but he hid in the bedroom and refused to look at her. Foofer has always hated saying goodbye.
Me too.
Tags: Foofer; Photos & Other Images; Rainee