Fun & Games
Posted Tue, 06/07/11
It feels like I've been waiting eons for a new game by Play First. I'm an avid fan of most Cooking Dash and Diner Dash games, along with Hotel Dash: Suite Success and Parking Dash. I'm not overly thrilled with Garden Dash, and I outright detested Soap Opera Dash and Diner Town Tycoon.
Hotel Dash 2: Lost Luxuries was released today and I can now add it to my list of favorites. Wonderful fun!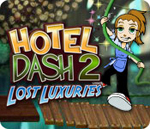 The game is described as follows:
Restore five nature-themed hotels in Hotel Dash 2: Lost Luxuries, a fun and exciting Time Management game.

Help Flo excavate themed hotels and turn them into exotic resorts in hopes of hosting the International French Fry Festival. Glide down zip lines to prep rooms, cater to guests' requests and renovate hotels with unique accents.

Will Diner Town finally win the honors of hosting the festival? Find out in Hotel Dash 2: Lost Luxuries...
It's a good thing Play First games were few and far between last winter, or I probably wouldn't have finished the Collective Obsessions Saga as quickly as I did.
For now, I'm allowing myself a bit of afternoon and evening fun...
POSTSCRIPT 06/09/11: Finished the game in record time. Loved the graphics and little extras. I was surprised to reach expert level at all five resorts with little difficulty (Two Trees Hotel, Swiss Chalet Hotel, Bubbly Submarine Resort, Chilly Ice Palace and Grand Sands Hotel). I'm ready for Hotel Dash 3!
Tags: Games