Bloodline Trilogy
Posted Fri, 06/01/12
Plans for a new series of books known as the Bloodline Trilogy by yours truly writing as Deidre Dalton have finally been announced.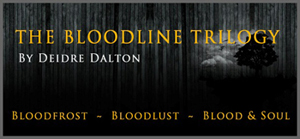 The novels will follow the uniquely magical journey of one family through time. Books in the trilogy include Bloodfrost, Bloodlust and Blood & Soul.
Bloodfrost is scheduled for release on Tuesday, 12 June 2012 in Kindle and Nook editions. To read more, click here.
Meet Noel Gatsby in Bloodfrost, whose nightly dreams take her away from the misery of her pain-wracked, disease-riddled body. The dreams become real when she awakens one morning to find herself completely healed. She soon learns her miraculous recovery comes at a price…
I began writing Bloodfrost last November, inspired by personal events as well as fanciful dreams. Who wouldn't like to awaken to discover all their physical ailments gone in one fell swoop?
However, life is never that easy, is it? My character soon learns there is a heavy price to pay for her sudden good fortune, which will come back to haunt her in the many years to come.
I'm currently writing Bloodlust, the second novel in the trilogy, which will hopefully see the light of day by the end of 2013.
Tags: Bloodline Trilogy