Webs Divine Official
Posted Thu, 04/03/08
I decided to "do-up" a new site featuring my web design work, and I uploaded it late last night.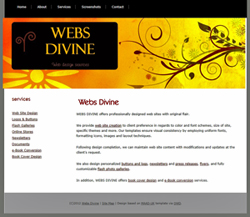 Description:
WEBS DIVINE offers professionally designed web sites with original flair. We provide web site creation to client preference in regards to color and font schemes, size of site, specific themes and more. Our templates ensure visual consistency by employing uniform fonts, formatting icons, images and layout techniques.

Our complete line of services include Web Design, personalized Logos & Buttons, Flash Photo Galleries, Online Stores, Newsletters, Documents, e-Book conversion services, Press Releases, Flyers and Book Covers.
Web design is second only to my love of writing, so I thought it was time to make it official. I've been getting work for years doing web design without advertising, so a little push in the present certainly can't hurt.
Spread the word if it strikes your fancy!