Web Catch-Up
Posted Sat, 04/02/11
It's been ages since I spruced-up the site for Webs Divine. I think the last time I changed the template was more than two years ago. Frankly, it's been outdated for quite awhile.
Being that my second love is web design, it's ironic the place advertising the same looks old and rather clunky. I can't believe I let it go for so long, which is not to say I ignored clients in the process. Never!
This is the old design: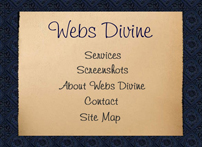 This is the new design: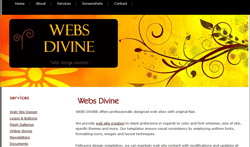 Thanks to a wonderful template found through MAAD-UK via Open Web Design, I was able to reassemble the new web digs in about three days. Having a decent template from the get-go helps tremendously, which is why I frequently browse the open source designs at OWD.
Along the way, I created a new service (book cover design) and a section called Design Notes. The "notes" include "hints and tips" about my own experience with design and working with formatting issues.
The other day I was "instant messaging" with a friend, who asked why I plunged so quickly into web projects after spending more than six months consumed with completing the Collective Obsessions Saga.
To be honest, doodling with web design is my way of relaxing (other than reading). I know it sounds odd, but it's true.
As I wait for the release of Quixotic Crossings with great anticipation, I'm also working on a new book titled Toss the Feathers. It is unlike Celtic Remnants or the Collective Obsessions Saga in storyline similarities, but I'm enjoying myself nonetheless.
Tags: Web Design/Computer Misc