Weekly Pics
Posted Thu, 03/16/06
I'm still having fun with my digital camera. Here are some of the latest (click on pictures to see their actual size in a new window):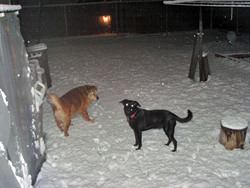 (Above): In last night's snow (Foofer & Rainee, 03/15/06).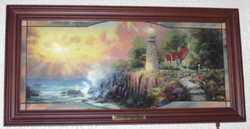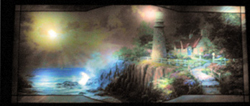 (Above): The Kinkade plaque that was a gift from my mother. It has light fixtures at certain points in the picture. I took a shot in the daytime, and then another at night with the inner lights glowing. It looks so cool in the dark.
I don't display my picture failures of the week or all my pooch shots, so that's it for now.
Tags: Tags: Foofer; Photos & Other Images; Rainee