Twitterpated
Posted Tue, 03/04/08
Still my beating heart: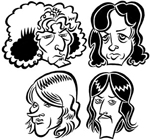 Although I was a bit young to be a Led Zeppelin fan when they first came onto the scene, I adored them during my high school years and love their music to the present day. I can unabashedly admit I was round the bend over guitarist Jimmy Page well into my twenties, and there is still something about him that draws me in. It's damned silly, actually, but amidst all the rubble of today's celebrity freak sideshows Page remains the only "entertainment" figure who holds even an inkling of allure for me.
So naturally I'm in favor of a permanent Led Zeppelin reunion, although I doubt it will ever happen.
Sigh.
*Note: Illustration of Led Zeppelin courtesy of the Caricature Zone. Top row, left to right: Robert Plant and Jimmy Page. Bottom row, left to right: John Paul Jones and John Bonham (1948-1980).
Tags: Photos & Other Images