Reading Sway
Posted Fri, 01/06/06
I've spent the last few days reading quite a bit. It's the time of year when I like to re-read Immortal Queen by Elizabeth Byrd. I noticed my copy circa 1975 was getting fairly bent out of shape, so I browsed through Abe Books and found two decent replacements. One I will read again next year and the other I've put on the bookshelf for safekeeping.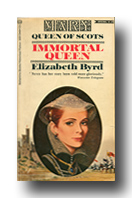 I cannot extol the fluid and brilliant writing of Elizabeth Byrd enough. Immortal Queen was first published in 1952, so I'm not certain if Miss Byrd is still alive today. However, Immortal Queen remains my favorite book of all time. Even if one is not partial to the history of Mary Queen of Scots, Immortal Queen would soon sway over any reader.
The book is 638 pages in paperback length, and reads like a modern day narrative with emotions, conversations in understandable English and windswept location descriptions.
Other books by Elizabeth Byrd include Flowers of the Forest, I'll Get By, Maid of Honor, The Famished Land, It Had To Be You, The Long Enchantment, Rest Without Peace, The Lady of Monkton and The Friday Night Bash.

Tags: Books & Reading